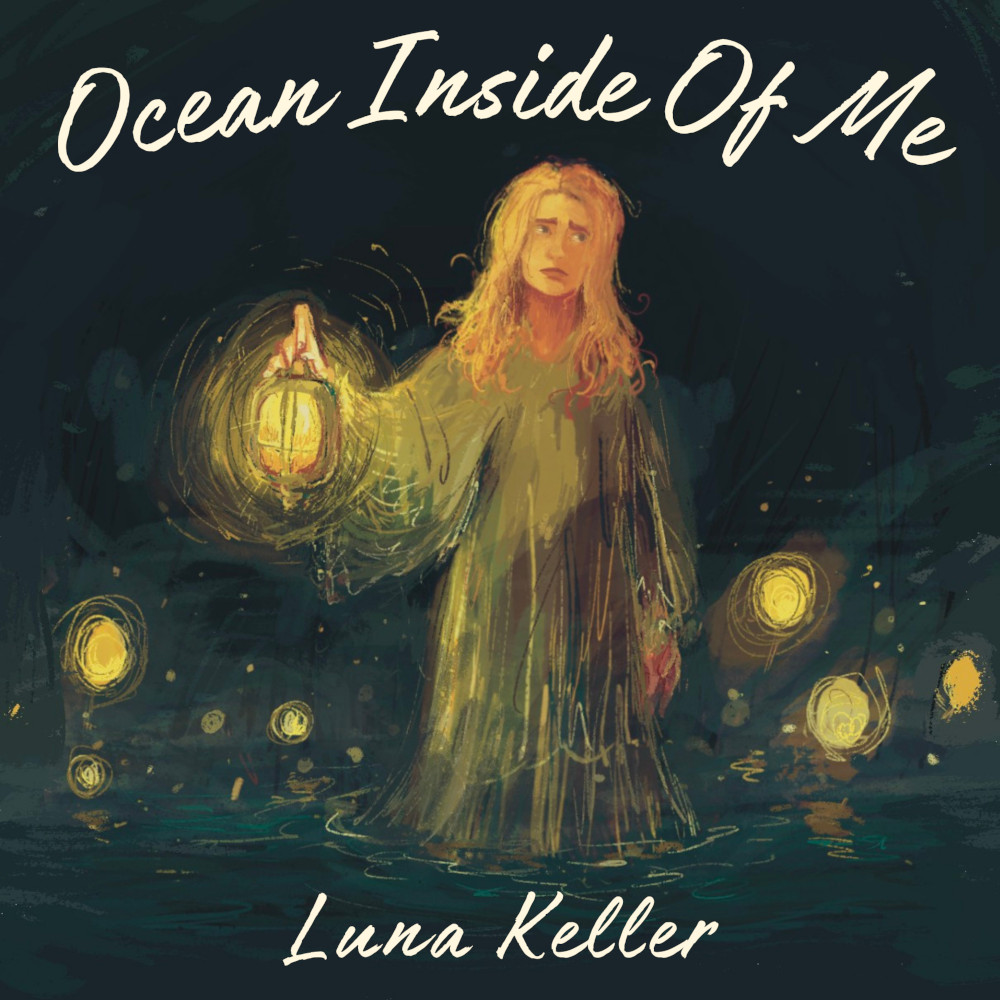 About
"Ocean Inside Of Me" is the title track of my second album which I've been working on for over 3 years now. This song marks the beginning of a ten song journey from dark to light. It's a deeply personal collection of songs written while I was struggling with my mental health and recovering from it. Telling this story from the other side means a lot to me and I hope it can make others feel seen and less alone on their journey.
This first song is about a moment of stillness and loneliness where you face the heaviness of your struggle. I wrote the lyrics sitting by the ocean in Tenerife at night under a sky full of stars after a really tough day. I was slowly coming out of the denial that I'm ok and realizing that I was depressed. Music gave the words to me long before I dared to speak them to anybody else. 
It was in that night that I got the idea to make an album called "Ocean Inside Of Me", on the 22 of December 2019. At the time I didn't know where my journey would take me, and it wouldn't be an easy road - I even got to a place where I didn't write songs, everything felt really dark. But as I became more self aware and started healing the album became a part of my journey, of reclaiming my voice and working towards something that matters to me. 
This song and album wouldn't be what it is without Dominic Romano who produced it. I feel so lucky that I got to work with him, he's an incredible producer and a dear friend. Through the process of bringing these songs to life we both dove very deep into their stories and I always felt heard and safe - I found someone just as passionate about the project as I am. Sending tracks back and forth between Cologne and California we have become a really good team!
As you listen to this first chapter of "Ocean Inside Of Me" I hope you can allow yourself to listen in the way that supports you the best. If you know the place it describes know that you're not alone. It does get better, be kind to yourself.
Lyrics
There are rivers under my skin
They make me shiver when I'm bleeding
There's a forest on my mind
It swallows me when I am losing
Now the sun sets
It gets colder
Wrapped in silence
I grow older
Night cover me in darkness
Take the blue from my sky
Stars be my witnesses
You have seen me cry
When the ocean inside of me swallowed my eyes
When the ocean inside of me flooded my eyes
There's an army of clouds that I live under
It makes my bones heavy sometimes
My head's full of lightning full of thunder
In the storm behind my eyes
Now the stars shine
Through the holes
Wrapped in moonlight
Darkness glows
Waves come on bring me thunder
I am afraid of lightning
Thoughts I lie under
They have heard me lie
When the ocean inside of me swallowed my mind
When the ocean inside of me swallowed my mind
I see my world drifting away
I had no words so I spoke in pain
I spin and I turn and I have no say
When the ocean inside of me turns to a wave 
The coast is flooded and I am shaking
Inside of my head the waves are breaking
Night cover me in darkness
Take the blue from my sky
Stars be my witnesses
You have seen me cry
When the ocean inside of me flooded my eyes
When the ocean inside of me swallowed my mind
What the press says:
I find the melody particularly interesting as it captures the core of dealing with mental health problems. The piano is Keller's mind with the hushed drums and acoustic guitar slipping in as inner demons attempting to take control.
THE OTHER SIDE REVIEWS
"Ocean Inside of Me" é simplesmente um hino para tocar a alma e transformar as pessoas.
ROADIE MUSIC
Using naturalistic metaphors, she grasps at the experience of a deep blue state of mind. Each word is delivered with a deep personal resonance that sounds and lingers within the listener.
APOLLO'S HARP
Chock full of stunning lyrics and swelling chord progressions, this is a song you feel.
NECESSARY OUTLET
Paired with a beautiful video performance, Luna Keller's 'Ocean Inside Of Me' is compassionate songwriting at its finest.
UNRECORDED
She brings the moment to life with her unique brand of delicate and acoustic storytelling. Luna's vocals are mesmerising, and her lyrics are rich with imagery.
YORK CALLING
I think the music video for Ocean Inside of Me is pretty impressive. It shows Luna on a boat crossing through the darkness as she performs.
LEFUTUREWAVE
The new cut is yet another example of Luna Keller showcasing why she's now getting some serious numbers on streaming platforms.
IT'S ALL INDIE
Luna Keller's dedication to her craft, her (probably involuntary and unconscious) refusal to be boxed into industry molds, and her commitment to creating music with depth is an act of artistic rebellion.
INDIE MUSIC CENTER
Discover the details!
Available as high quality WAV download.
If you are listening through a great audio system, then this is for you! My music is recorded and mastered to the highest level to please the ears of HiFi enthusiasts.
To discover all the details you will find an uncompressed version in CD quality in my online shop.
Credits
Luna Keller - lyrics, music and vocals
James Forrest - drums
Dominic Romano - acoustic guitar, synths, additional percussion and additional vocals
Produced and mixed by Dominic Romano
Mastered by Sam Moses