What the Press wrote about my songs in 2023
Many artists leave powerful impressions on our team, but Luna Keller is one of those who is entirely unforgettable.
THE OTHER SIDE REVIEWS
Keller's ability to blend introspective lyricism with evocative melodies creates a powerful resonance, making "Invisible Wars" more than just a song—it's an intimate glimpse into the artist's psyche.
MUSIKEPOOL
¡Profundo y conmovedor!, en esta ocasión te compartimos una hermosa canción que nos deja con el corazón retorcido, gracias a que"LUNA KELLER" ha creado un tremendo tema que conecta con todos los oyentes.
END SESSIONS
The sheer emotion you can hear in her voice carries it for me, and when you combine it with the majesty of the string section the track feels almost ethereal and angelic.
IT'S ALL INDIE
Luna Keller weaves this folk-pop ballad with threads of melancholy and resilience, resonating with a quiet but undeniable intensity.
NEON MUSIC
We've been fans of Cologne, Germany-based singer songwriter Luna Keller for a couple of years now, always taking the opportunity to share her new music.
YORK CALLING
Kellers conviction to storytelling makes the track feel natural wherever it goes. That narrative energy elevates the song beyond the sum of its parts.
MUSIC TASTE
As real and heartfelt as always, Luna's tenderly layered journey of 'Invisible Wars' is one that soaks warmth and guidance within melancholia, capturing the same familiarity of a friend comforting you through your greatest low.
EXISTANTIAL MAGAZINE
With such a progressive approach to her sound and songwriting, she is certainly one of our favourite artists of the year so far.
MYSTIC SONS
The track carries you away on a sonic roller coaster, much like the way many people spend their days amidst the dramatic fluctuation of their own emotions.
UP TO HEAR
Um dos trabalhos mais instigantes nos últimos tempos, o single/vídeo de "Invisible Wars" é uma verdadeira obra-prima sem precedentes, tamanho o poderio instaurado e na força emanada na conjunção entre imagem + som, representando um resultado artístico absolutamente arrebatador!
MUSIC FOR ALL
E que pompa possui o trabalho de Luna, tanto musicalmente, quanto o audiovisual, que é muito bem produzido, por sinal.
ROADIE MUSIC
Synonymous with sonic tenderness, colourful soundscapes, and utterly delightful vocal performances, Keller's intimacy and honesty through her music has cemented her as one of the most exciting acts to appear in the last few years.
MUSIC IS TO BLAME
There are layers within her great voice—a depth often sought but rarely found in contemporary sounds waves—that speak directly to one's core.
MUSC ARE NAGH
I find the melody particularly interesting as it captures the core of dealing with mental health problems. The piano is Keller's mind with the hushed drums and acoustic guitar slipping in as inner demons attempting to take control.
THE OTHER SIDE REVIEWS
Ocean Inside Of Me uma obra serene que se conecta diretamente com sua alma.
MUSIC FOR ALL
"Ocean Inside of Me" é simplesmente um hino para tocar a alma e transformar as pessoas.
ROADIE MUSIC
Using naturalistic metaphors, she grasps at the experience of a deep blue state of mind. Each word is delivered with a deep personal resonance that sounds and lingers within the listener.
APOLLO'S HARP
Chock full of stunning lyrics and swelling chord progressions, this is a song you feel.
NECESSARY OUTLET
Paired with a beautiful video performance, Luna Keller's 'Ocean Inside Of Me' is compassionate songwriting at its finest.
UNRECORDED
She brings the moment to life with her unique brand of delicate and acoustic storytelling. Luna's vocals are mesmerising, and her lyrics are rich with imagery.
YORK CALLING
I think the music video for Ocean Inside of Me is pretty impressive. It shows Luna on a boat crossing through the darkness as she performs.
LEFUTUREWAVE
The new cut is yet another example of Luna Keller showcasing why she's now getting some serious numbers on streaming platforms.
IT'S ALL INDIE
Luna Keller's dedication to her craft, her (probably involuntary and unconscious) refusal to be boxed into industry molds, and her commitment to creating music with depth is an act of artistic rebellion.
INDIE MUSIC CENTER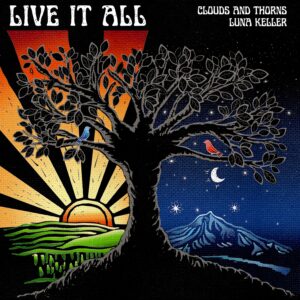 Luna Keller and Clouds and Thorns have masterfully crafted a composition that mirrors the intricate duality of existence. Their artistry thrives on blending the vibrant and somber shades of human emotions, imparting a sense of hope to all who listen.
PRINCIPLE MUSIC
"Live It All" dengan caranya yang menarik menghadirkan harmonisasi suara Keller, yang berakar pada kepekaan Eropa, dengan nada kontemporer dari Clouds and Thorns, menghasilkan medley melodi yang menghangatkan hati dan menyegarkan.
PARAPOP
If you like the sounds of Of Monsters and Men, Mumford and Sons and the uplifting tones of Coldplay then "Live It All" is going to be a favourite of yours in no time.
IT'S ALL INDIE
As the second collaboration between Luna Keller and Clouds And Thorns, this track showcases their mastery of the singer-songwriter approach, blending elements of indie folk, indie rock, and indie pop to create a truly unique and captivating musical experience.
THOUGHTS WORDS ACTION
Teaming up with US artist Clouds And Thorns for her newest outing, both of them feel like they were having the time of their lives writing and recording this one. With such a bright and shimmering approach to its songwriting, permeated with some soaring vocal performances throughout, 'Live It All' stands as one of her most impactful releases to date.
FLEX MUSIC BLOG
'Live It All' makes for a wonderfully bold and anthemic return for the pair. With its rich and soaring energy, vibrant atmosphere, and infectious vocal hooks layered from start to finish, she is returning to the fold with one of her most engaging efforts to date.
MYSTIC SONS
"Live It All", the latest single from Germany-based artist, Luna Keller, in collaboration with Clouds And Thorns, is a powerful new tune that features poppy vocal flows over a well-produced and dynamic instrumental.
TAPE RANGER
There's something pointedly determined about this single and it sure to inspire listeners to leap into their next moment. Whether you need a pick-me-up or a track to meet your high energy, 'Live It All' should be on your go-to playlist.
UNRECORDED
The musical arrangements in 'Live It All' deserve special recognition, featuring an exquisite chord progression and an anthemic beat that keeps your energy levels high and your engagement unwavering.
LOST IN THE MANOR
Much like Almost Famous. Live It All is the perfect song for William and his coming-of-age journey. So if you have an affinity for tracks that feel like a warm campfire, I highly suggest you give Live It All a listen.
INDIEMUSICFLIX
Clouds and Thorns, the musical project of New Jersey, USA-based Richard Andruska, complements Luna's charismatic vocals with his own expressive and gritty voice. The harmonies are beautiful and the emotional crescendos powerful. It's utterly rousing.
YORK CALLING
Their creative synergy is apparent through an effortless blend of indie folk elements into "Live It All", creating an international musical language uniting souls across borders and oceans alike.
COUCH MAG
Fiery and slightly frantic, 'Live It All' tosses you into a kaleidoscopic swirl of sound; kind of like those anime characters who are caught up in a rush of colourful lights and dropped in a rainbow of joy.
THE OTHER SIDE REVIEWS
Les paroles inspirantes et la production entraînante de ce hit agissent comme un baume pour l'âme. Les arrangements grandioses et acoustiques instaurent une atmosphère chaleureuse, variant entre douceur et sonorités dynamiques.
INDIE CHRONIQUE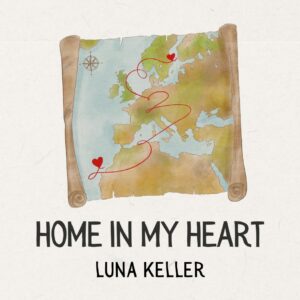 "Home in my Heart" is the perfect travel song to chronicle your memories and moments, but most importantly reminisce and find heart with those who made them special on that road.
FIND NO ENEMY
All in all, the song's production and elements are balanced and the emotional weight of the song is carried with so much power and passion. I bet you this song's chorus will remain stuck in your head for days on end.
SISTRA
I am really enjoying her smooth vocals and how beautifully they draw the listener's attention to her storytelling.
CAESAR LIVE N LOUD
It's an ode to long-distance relationships and the emotion of it is beautifully rendered through Luna's lyrics, her expressive vocals and the track's warm country pop sound.
YORK CALLING
From the track's laid-back, catchy charm to its authentic and vibrant sense of life and endlessly warm glow, 'Home in my Heart' is a track that feels as welcoming and engrossing as anything you're likely to hear anytime soon.
CLOUT
I find myself running out of superlatives to describe the talent that is Luna Keller. A voice that deserves to be heard by all, and a sound that I feel I'll never grow tired of, she's an artist of the highest order.
MESMERIZED
Home In My Heart has some great sections that break up the track perfectly and keep the listener engaged fully, whilst often returning to a supremely catchy chorus that any listener will find themselves humming for the rest of the day.
SEND ME YOUR EARS
Só para lembrar, o adjetivo 'itinerante' significa que Luna é uma cantora que não fixa residência em um local saindo em turnê, e sim se mantém sempre mudando de endereço deixando a magia de sua música por onde passa.
MUSIC FOR ALL
Interestingly, while the mellifluous vocals weave into the track with a gentle, comforting ease, there is a sense of haunting. So, in other words, you feel comforted and happy when listening to the song but also have some goosebumps spreading down your arms.
THE OTHER SIDE REVIEWS
Clasped around a soft folk-pop sound, 'Home in my Heart' right from pressing play feels like the warm embrace of a friend, guiding you through familiar tones and offering a safe respite away from the weight of the world.
EXISTANTIAL MAGAZINE
Uma mistura de pop e folk nos fazem derreter de ternura na nova faixa de Luna, uma música que tem coração no nome em sua essência, uma canção feita com carinho e muita alma, narrativa que aquece nosso corpo e corre em nossa mente nos fazendo refletir, uma música para ninguém colocar defeito.
IN!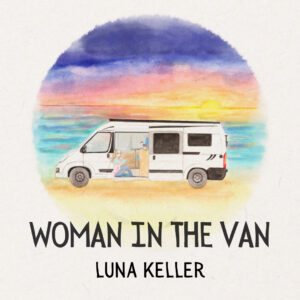 With that rich and embracing voice layered amongst some wonderfully lofty acoustic-led production from start to finish, she is proving herself as one of the more compelling songwriters doing the rounds right now.
Flex Music Blog
"Woman in The Van" tem una atmosfera gostosa, uma energia incrível e leve, que faz a gente flutuar e nos aprofundar em sua melodia pop folk deliciosa. 
in!
I would compare Luna's release to musicians such as folk-pop singer-songwriters like First Aid Kit and others.
The Minimalistic Music Blog
« Woman in the Van » est une pépite musicale à écouter sans modération, un hymne à la liberté qui vous fera du bien au cœur et à l'âme.
ExtraVAfrench
'Woman in the Van' is set to conquer even the most uptight listener with its colourful and stress-free attitude.
Mesmerized
Filled with wonderfully warm textures, a vibrant atmosphere, and her own spellbinding voice layered throughout, she is certainly looking to lure us in with this mesmerizing new delight.
Mystic Sons
"Woman In The Van" é um folk majestoso, baseado nas raízes do estilo e que nos remete a nomes como Joan Baez e Joni Mitchell, mas sem que Luna perca sua identidade.
Music For All
'Woman In The Van' is a gorgeous bit of storytelling and songwriting that feels as thoughtful as it does alluring, as it continues to highlight the endearing edge to Luna Keller and her distinctive style.
Clout
This beautifully crafted number by Luna Keller is a clear indicator that Luna has a long and flourishing journey in the music industry. Her refreshing writing and vocal have already garnered a wide and huge audience.
Indiemusicflix
Keller's voice is angelic, swooping over the melody as agile as a crane over a nearby reed-speckled lagoon. It's a wondrous, magical performance that should provoke the listener to find their own answers, without overthinking, of course.
B-Sides & Ballads
Make sure to add 'The Philosopher' to your playlist and enjoy its soulful melodies and poignant lyrics. Luna Keller is definitely one to watch in the indie-folk scene.
Couch Mag
Another jewel full of surprise, melancholy, and an invitation to reflection that grabs your guts and does not let go, even after the tenth listening, you will continue to reflect.
Indie Music Center
Keller's voice never fails to take my breath away. She's gifted, both vocally and as a songwriter. On this latest tune, she's gone an extra mile.
Find No Enemy
Auch bei ihrer neuste Single 'The Philosopher' handelt es sich um einen exzellenten Indie Folk Titel, der mit tiefgründigem Songwriting überzeugt und den man auf alle Fälle gehört haben muss.
Berlin On Air
Quaint, carefully crafted and lightly tendered, 'The Philosopher' is an utterly charming, simply stunning offering by the talented young artist – one we certainly won't forget in a hurry.
Purple Melon
Luna traz uma nova forma de expressar seus pensamentos através dessa faixa com calma e tranquilidade. O que é novo para alguém ansioso, como eu, em que esses pensamentos são sempre agitados e barulhentos, como um trash metal. Assim ela consegue entregar paz e tranquilidade para quem ouve e manter as indagações que dominam a mente de todas as pessoas.  
Music for all
The Philosopher is yet another outstanding offering from one of the hardest working artists I know.
York Calling
With her broad and soaring vocal performance layered across a sombre yet heartfelt production throughout, she is continuing to cement herself as one of the more shimmering names on the rise right now.
Mystic Sons
Setting the lyrical content to the side, there is a fantastic moment where the production winds down just enough to let Keller's vocal work shine for a moment in a cappella. And it is this moment that will likely cause you to hit play, over and over again, until you've memorized this contemplative tale.
Up to hear music
The Philosopher is a timeless, acoustic number with uncompromising lyrics from Luna Keller. It's defined by the soft vocals of the singer-songwriter, that opens up vulnerably. 
Sinusoidal Music
'The Philosopher' is a show-stopping piece of heart-rending folk, beautifully written, warmly delivered, and lovingly sung.
Sistra
With its poignant lyrics and stunning harmonies, it is a track that will linger in the listener's mind long after the song has ended. Luna Keller is undoubtedly one of the best upcoming acts in the German indie folk scene.
Indiemusicflix